CSC | Space MMO - O tej grze

CSC is an open-universe, sandbox-style space MMO with a player-owned economy. Command starships and earn digital items to buy, sell, or trade without limits both inside and outside of the game universe. Experience a free-market
Play-to-Own Economy
that provides true ownership & freedom.
Your Steam purchase includes our Founder's Pack which comes with a VANGUARD SE STARSHIP, and 4 SHIP EQUIPMENT MODULES.
The Current Game State
CSC is a
game in development
while in Early Access with limited game features implemented. As a starship Commander you can command your ship, explore
10+ star systems
,
mine for resources
that can be used in
future updates for crafting/manufacturing
,
combat NPCs
for target practice, and play along with other Commanders on our
LIVE MMO server
. Check out our roadmap below for current & future gameplay details.
STAR TREK x CSC Limited-Time Event
.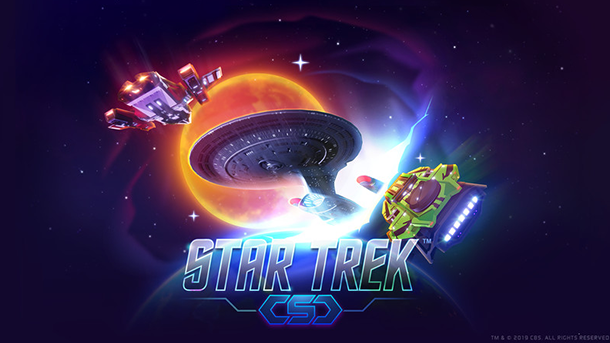 This summer in a Limited Time event Star Trek and CSC Universe will collide. A divergence rift has opened bridging these two worlds. During this event CSC Commanders will have the opportunity to gain one (or all) of the following six iconic starships. Want to learn more? Follow CSC on Steam to stay up to date on this exciting event as it approaches.
Star Trek Ships Coming to CSC
U.S.S. Enterprise NCC-1701

U.S.S. Enterprise NCC-1701-D

I.K.S. Rotarran IKC-62127

U.S.S. Voyager NCC-74656

U.S.S. Defiant NX-74205

U.S.S. Rio Grande NCC-72452
ATTENTION PLAYERS: CSC IS IN DEVELOPMENT WHILE IN EARLY ACCESS
CSC is a game that has been in development for over a year and is going through consistent iterations and updates. THE GAME IS IN DEVELOPMENT and is NOT FEATURE COMPLETE so bugs and other issues may exist. Currently, we are on version 0.5 of our development cycle. This version includes several core features (listed below), but with many items in our full game description (below) are features that are pending. See below for a tentative roadmap and current features.
CURRENT LIVE VERSION - 0.5
CSC ROADMAP
M.E.A - Mining Expedition Alpha, a 2D mini-game where early Commanders set their ships to autonomously explore and collect resources for future use. (Ended in 2018)

Pre-Alpha - Testing client for game mechanics, community events to test stability / find exploits, limited multiplayer support, limited modules (15), limited ships (12) and some NPCs.

0.5 - MMO Servers, simple NPC spawns, mining with persistent ore (players keep ore they mine for future use), No permadeath or equipment loss, 30 playable ships, 500+ equipment modules, 10+ star systems to explore, community in-game events, Star Trek ships coming Aug 29th.

0.6 - Refining Game Mechanic: Users will be able to take their ore and refine it into crafting components. NPC updates and first iteration mission system.

0.7 - In-game Trading / Marketplace: Players will be able to buy and sell items via in-game UI for game currencies. Global mail and item trading system will be implemented. Tracking and stats API will be available for all users to track in-game economic activity.

0.8 - Crafting: First iteration of crafting items. Users will utilize refined components to build ships, modules, and other equipment. When crafting users will be able to discover HIGHER tech levels of items creating more powerful equipment.

0.9 - Guild Management, Ships Insurance / Persistence, Crafting Update: UI to support station and guild management will be implemented. Friends list, friendly fire avoidance, fleet grouping, and other social features will be implemented. Persistence will come online with insurance system in a limited fashion for testing. Crafting will get an update (Additional buffs can be added to current tech level items).

1.0 - Full Persistence: Game will utilize full persistence rules and true loss is now possible.

1.1 - Workers / Colonist Game Mechanic, Fleet Control: Limit fleet command will be introduced via modules & workers. Advanced missions requiring work-over-time utilizing Workers and Colonist will be implemented. Advanced research and mining systems will be deployed to use workers and colonists.
Universe of Opportunities
As a Commander in the Galactic Federation Fleet, you will undertake missions, discover resources, and acquire skills in your quest to dominate the galactic frontier. Explore the vast expanse but be warned, the further you travel from home the greater the danger.
Your journey begins as an adventurous miner hunting rare resources in the depths of Fringe Space. Become a master crafter of high-tech modules, equipment, starships, or even a fully player-owned station. Perhaps you'll focus your attention on supporting the growth of the Galactic Federation by transporting consumer goods, resources, colonists, and workers to new outposts, earning valuable credit. Or you could armor and equip your starship to hunt for pirates and other treasures in dangerous and unsettled space. Keen on building a business empire? Then dominate the markets by buying, selling, and trading valuable goods from around the cosmos. The choice is yours... What destiny will you choose?

Starships
In CSC you, our Commander, can own and operate your very own starships. Starships come in all shapes and sizes and are specialized in either mining, combat, trade, or exploration. Starships in CSC can be endlessly customized with modules. Modules can add or upgrade existing ship functionality from shields and weapons to FTL drives.

Economy
Almost everything in the CSC universe can be crafted from resources openly available in the universe. The smallest shield module up to a universe-wide jump gate network can all be made with the right materials. Create new technology and share it freely for the good of the federation or sell it for the right price.

The crafting system is uncapped, allowing players to continually improve on the quality of their crafted items. Specialization is encouraged by the CSC crafting mechanic, rewarding players for focusing on specific items & allowing them to create truly unique and valuable starship weapons or other components.

Exploration
Rules are merely suggestions in some parts of space. Areas under GFI protection do exist, and are open to explore and mine to your heart's content, but the best loot is out there in Fringes of Space. Beware, dangers of all kinds are in the fringe: creatures, pirates, rogue Commanders, and faction governments. Those brave enough to venture deep into Fringe Space however will find an abundance of rare resources, larger bounties, and more lucrative quests.

Getting Started
All new Commanders who purchase CSC through Steam will get the full game, including our Founder Starter Pack. With this pack you will get a ship and standard modules to start exploring the universe right from the start.

Gameplay Screenshots
Thanks from the CSC team goes out to Coco_Bear, Bitcoin_Pr0GB, HarleyS, Magick, & SirJuggz for providing some of the above screenshots of CSC.